KBI-097 美人元CAの淫らな手ほどき 冨永ののか34歳×年下素人3名 経験少ない年下男子をおもてなし!
A Beautiful Former Cabin Attendant's Dirty Introductory Lessons Noka Tominaga 34 Years Old X 3 Younger Amateurs Hospitality For Younger Boys With Less Experience!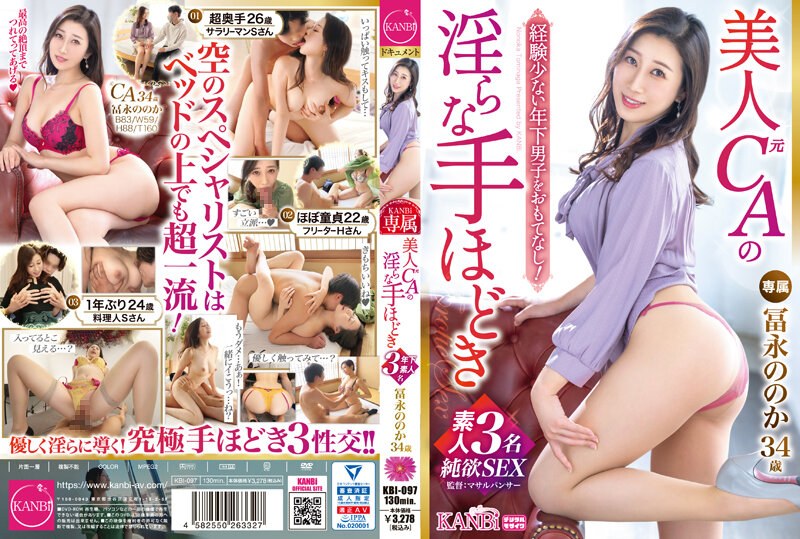 KANBI's exclusive actress "Tominaga no Noka" hospitality of younger boys!The first is herbivorous salaried worker S!In the first place, Mr. S guide me to touch my chest first!Furthermore, he taught his fingering and cunnilingus, and when he knocked, he straddled Ji -Po and cowgirl!The second person is a very virgin part -time worker H who has extremely small experience!After raising your mood with a kiss, a blowjob is made into Bing!Practice H's dream, which is a standing back, and share pleasure with each other!The third is a cook S who has SEX for the first time in a year!Read S while showing the margin of adults, holding intense SEX while hugging each other!Former beautiful CA guides three young boys on pleasure journey with the ultimate sexual intercourse!
This product is subject to "Price Guarantee of Reservation Products".Please check this out for details.
This product is eligible for "convenience store receipt".Please check this out for details.
Date: January 19, 2023